Sixth graders did an engineering challenge this year to create the fastest robot they could that could also go around an obstacle placed anywhere and continue along its path.  For this year's sixth grade students, it was their first year of robotics.  In subsequent years, students will have more and more experience with robotics coming into sixth grade.  I created a survey with 4 parts.
Define Robot (short answer)
Define Engineering (short answer)
I want to be an engineer or scientist when I am older
I like using computers and other technology.
Students answered the last 2 questions using a Likert Scale (Strongly Agree, Agree, Neither Agree or Disagree, Disagree, and Strongly Disagree.)
Being the first year, I did not get this project quite right and it was not optimal (needed more time and/or a simpler challenge). What I found was that there was about same number of kids whose interest in engineering was increased as decreased.  What is significant was that this one project did cause some movement in attitudes.  In contract, interest in technology was virtually unchanged by the project.  I expect to see more positive movement with a better challenge and I also expect that children with much more experience in engineering than these students, who only have 1 year, will be more resilient to temporary frustrations.  We may also find that the more we expose young children to early engineering, even with the best projects, they may find it to be their thing (or not) sooner.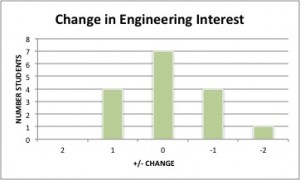 When I asked this year's sixth graders after the survey about their responses, they said:
they felt frustrated because they could not finish,
that engineering was too hard (based on this),
that engineering was fun but that they would not want to do it full time, that they liked the projects but had stronger interests besides engineering.
It will be interesting to see what happens next year.  I am going to simplify the challenge and also the kids next year will come in with a year of robotics experience.  I also had to give the survey right after the project finished (or not), so next year, I will let some time pass regardless of the my perceived success of the project.