Elementary Robotics:  Sustaining the Natural Engineering Instincts of Children, by John Heffernan, Ph.D. is available on Amazon in paperback or  kindle
Toddlers, preschoolers, and kindergarteners are natural engineers. They love sand castles, blocks, fairy houses, and other projects that support their creative, fantasy play. We support this natural engineering instinct in preschool and kindergarten classrooms with blocks, LEGOs, sand and water tables, and other activities. As students reach first grade and beyond, we remove all these activities from school. Yet we still expect them be interested in engineering when they get to high school and college.
The Elementary Engineering Curriculum (EEC), described in this book, supports students' natural engineering interests all through elementary school. The EEC delivers a preschool to grade six engineering experience based on BeeBot, and LEGO WeDo, NXT, and EV3 robotics. Each year, students have at least one robotics unit. In grades K, two, three, four, six, students also have an open ended engineering challenge. The EEC explicitly teaches the engineering design process in an age appropriate way. Robotics provides very high interest, motivating, and deep learning experience for students. This book contains rationale, descriptions, research, and teaching tips on elementary robotics as well as complete lesson plans and standards alignment for the curriculum.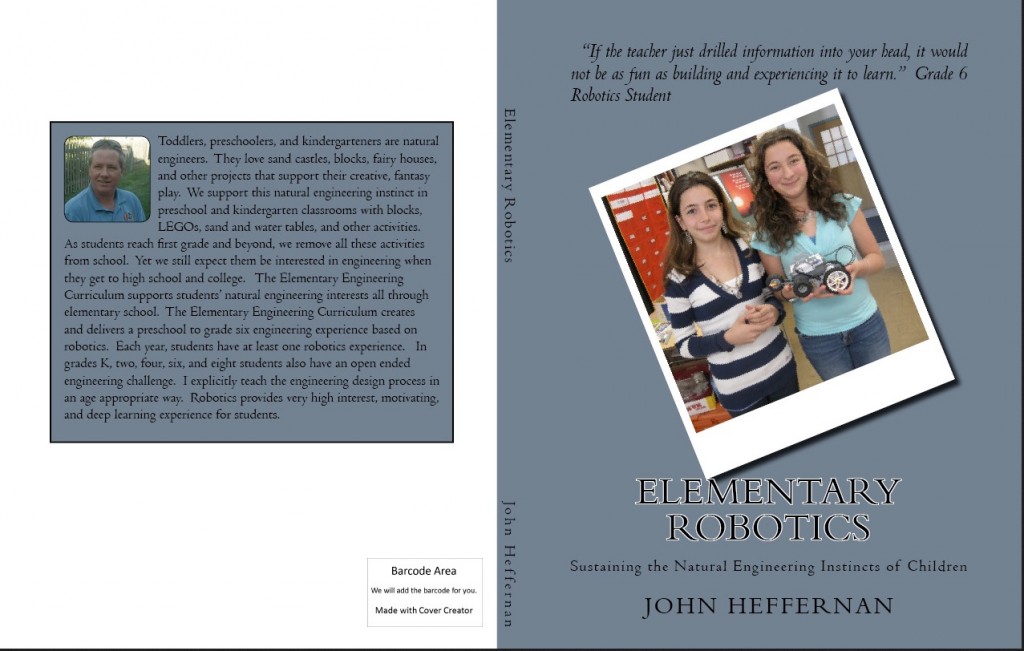 Table of Contents (PDF)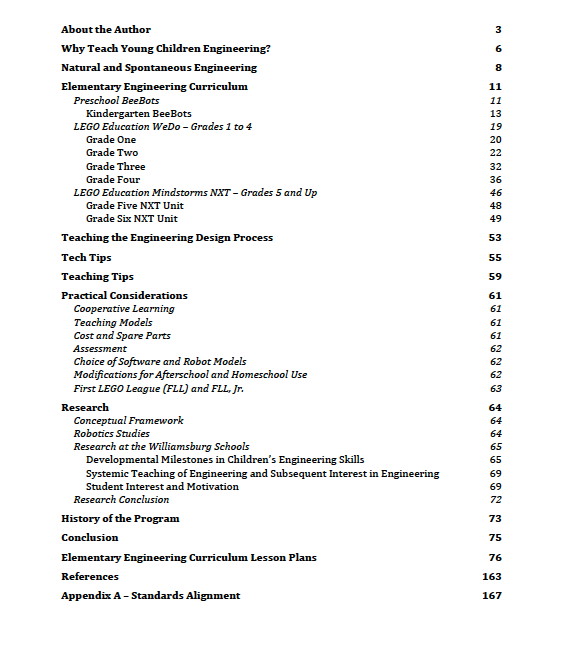 Standards Alignments
StandardMassachusetts Science, Technology, and EngineeringsCSTA (PDF)
Massachusetts Common Core ELA  (PDF)
ISTE – International Society for Technology in Education (PDF)
ITEEA – Technology and Engineering Educators Association (PDF)
Massachusetts Science, Technology/Engineering (PDF)
Massachusetts Technology Literacy (PDF)
Massachusetts Common Core Mathematics (PDF)
StanNGSS – Next Generation Science StandardsdardsNGSS (PDF)