I received this award a few years back and I encourage others to apply.  It's a great experience to video yourself, really analyze what you are trying to do, and get feedback from the NSF reviewers. Here's some info on the award.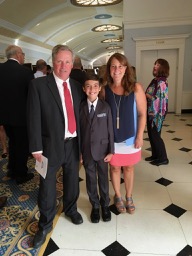 The Presidential Awards for Excellence in Mathematics and Science Teaching (PAEMST) are the highest honors bestowed by the United States government specifically for K-12 mathematics and science (including computer science) teaching. The 2017-2018 nomination and application period for K-6th grade is currently open.
The awards were established by Congress in 1983. The President may recognize up to 108 exemplary teachers each year. Awards are given to teachers from each of the 50 states, the District of Columbia, the Commonwealth of Puerto Rico, the Department of Defense Education Activity schools, or the U.S. territories as a group (American Samoa, Guam, the Commonwealth of the Northern Mariana Islands, and U.S. Virgin Islands). PAEMST recognizes those teachers who develop and implement a high-quality instructional program that is informed by content knowledge and enhances student learning. Since the program's inception, more than 4,700 teachers have been recognized for their contributions in the classroom and to their profession. Presidential awardees receive a certificate signed by the President; a trip to Washington, D.C. to attend a series of recognition events and professional development opportunities; and a $10,000 award from the National Science Foundation (NSF). The National Science Foundation administers PAEMST on behalf of The White House Office of Science and Technology Policy.
Please consider nominating a talented science or mathematics teacher using the PAEMST website today. If you are interested in applying yourself, you can begin an application at www.paemst.org. The 2016-2017 nomination deadline is April 1, 2018, and the application deadline is May 1, 2018.